The South "Village" Of Willow Springs
Posted January, 2001
---
Anam Inc., a privately owned Canadian corporation, has decided to create a very large development between Oracle Junction and Florence Arizona and has hired Remington Properties, L.L.C to do the development.

The site of the proposed development is one of Anam's holdings in Arizona, the Willow Springs Ranch. The Willow Springs Ranch is some 182,000 acres in size, of which Anam owns approximately 19,000 acres, the remainder being state trust land or federal land.

Pinal County Commissioners: Willow Springs is 'Speculative'

In October of 2000, Alex Arqueta of Remington Properties, presented a proposal to rezone the Anam holdings to the Pinal County commissioners seeking their recommendation that the Pinal County board of supervisors hear the re-zoning request to allow development of all of the Anam holdings.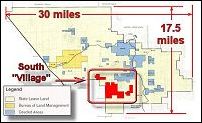 The Willow Springs site, highlighting the South Village development. [click on image for larger view]

The commissioners rejected the proposal, characterizing it as "speculative". However, the commissioners told Anam that a request for a smaller development might be looked on more favorably. As a result, Anam has scaled back the re-zoning request.

A "Village" in Name Only

The new, "scaled back" proposal is called called the "South Village" and consists of three separate parcels, some 4,600 acres in size.
The sheer scale of the proposed South Village of Willow Springs shows that the term "village" is being used only to market the development, and does not in any way indicate it's size.
Some Questions:
The sheer scale of the proposed South Village of Willow Springs brings key questions to mind --- including:
Still speculative?

Do Anam Inc. and Remington Properties, L.L.C. really have the financial wherewithal to build the South Village of Willow Springs? Is there really an intent to build this large development, or is this "scaled back version" also land speculation (e.g. rezone, then sell the land, rezone, then try to get investors, etc.)?

Adequate Water Supply?

The South Village of Willow Springs is situated a few miles north of the Page-Trowbridge radioactive/toxic waste dump and will pump water from the aquifer beneath Page-Trowbridge to meet the demands imposed by the South Village.

Is there sufficient water to support a development the size of the South Village of Willow Springs, much less the size of the development at build out?
This page does not answer these questions. Instead, this page is intended to allow the reader to get an idea of the size and scale of the South Village of Willow Springs, so as to possibly gain insight to these questions.

One way to get an idea of the size of willow springs is to compare it with the size of other Arizona towns, other proposed developments as well as with the size of the aquifer that feeds it.
---